YOUR JOURNEY TO WELLNESS STARTS HERE.
Empowerment Principles That Eradicate Disease.
Nathaniel Jordan delivers remarkable Health & Wellness Keynotes which drive your conference attendees to immediate action and keep them engaged.
Watch Nathaniel in action.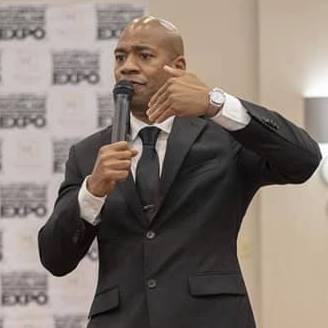 Nathaniel Jordan is a consummate professional speaker and nationally recognized health & wellness expert. Affectionately known as "The Minister of Wellness," he has earned his place as the world's most powerful health & wellness speaker by delivering concentrated based strategies that have an immediate impact.
Nathaniel is the author of 3 books on preventing and reversing the top three killers of ALL Americans each year including "Prevent & Reverse ALL Disease 100% Naturally", "How Nutritional Excellence Can Prevent & Reverse Heart Disease & High Blood Pressure", and "How Eating a Nutrient-dense Plant-Rich Diet can Reverse Type II Diabetes In 30 Days". He works daily researching and studying cutting edge strategies to help clients succeed in their health journey.
Since losing 100 pounds and reversing heart disease in 2012, Nathaniel has health coached nearly 200 clients and boasts DOZENS of dramatic success stories from around the nation. Through keynote speaking and national media appearances, he's helped thousands of listeners, viewers, and conference attendees achieve maximum levels of COMMITMENT to their Health & Weight Loss Goals.
The Minister of Wellness has earned a reputation as being such an impactful speaker; he has been dubbed "The Martin Luther King of Nutrition" by several high-profile industry leaders including Cayman Kelly - the voice of The Breakfast Club Power 105.1 in NY. Holistic Health Gurus such as Joel Fuhrman, MD, trust in his leadership, experience and unmatched proven track record in INSPIRING audiences with SUSTAINABLE principles to ERADICATE disease.
Nathaniel Jordan's strong skill as an experienced Health Coach teaches seminar participants, "HOW TO Techniques," "Common Sense Simplistic Approaches" and "Practical Application Strategies" to acquire the necessary mindset to achieve their health & weight loss goals in our current junk food crazed environment.
Nathaniel Jordan has been a keynote speaker and guest panelist at numerous events
including but not limited to:
Washington University's Cancer Prevention Summit
St. Louis Urban League Federation of Block Units 86th Annual Meeting

The Empowerment Network of St. Louis Prostate Cancer Support Group

The Breakfast Club, Inc. Breast Cancer Support Group

St. Louis Health Careers College All-Student's Meeting

Christ Of Calvary Community Church, Tampa Bay FL

Sista's Can We Talk: Straight Talk About Health and Our Community, Wichita, KS

Everlasting Life Vegan Cafe's Black Wall Street Renaissance, Capitol Heights MD

GreenFare Organic Cafe Health Seminar, Herndon, VA
Nathaniel Jordan has appeared on The Joe Madison Show, The Armstrong
Williams Show, The Rock Newman Show, The Carl Nelson Radio One Show, Ask
the Good Doctor with Dr. LaJoyce Brookshire, TheAdviseShow TV, Dr. Boyce
Watkins Podcast, and many other media appearances. Media Mogul Roland Martin
live-streamed The Minister of Wellness June 21st, 2018 Health Seminar at Howard
University - "How Junk Food Is Creating an Epidemic of Mental Illness and
Violence." The live stream received over 100,000 views WORLDWIDE.
Nathaniel's programs are designed to help your audience break free from food addiction and dangerous eating habits, and teach them the proper way to eat for health and longevity. Get more detailed information of his programs by downloading the speaker info kit.

Knowledge based empowerment.
Learn the power of proper Nutrition Education and

break negative stereotypes about overall Health & Wellness

Develop a foundational understanding of how to prevent

and treat the top 3 killers of all Americans every year.

Application based empowerment.
Learn how not to fall into the "Pleasure Trap", and

reverse the addiction to using food as a recreational drug

Create new habits to overcome ravenous situations

which fuels cravings for junk foods

Consistent based empowerment.
Learn to heighten your sense of awareness and revisit

healthy habits each and every day

Learn the power of writing down your health goals and

creating a Health & Wellness based vision board

Healing based empowerment.
Learn to revamp the way you eat and live, go from

unnatural to natural

Understand the dangers of synthetic prescription drugs,

and how true medicine is found in fresh fruits and vegetables (G-BOMBS)
Trusted by Health Thought Leaders
"I am proud that Nate Jordan has become such a force for excellent health, with a voice and passion that cannot be restrained. His knowledge base is broad, his motivational skill is high and his ability to change people's behavior and save lives is remarkable."
President, Nutritional Research Foundation
"I so enjoyed watching The Minister Of Wellness at The 2K19 Health &
Wellness Seminar! He is so inspirational, really drives the points home, there was humor, empowerment, it was really an
AWESOME and INSPIRING event! If anyone gets the chance to come out and hear him speak I would HIGHLY encourage you to do so. It was a FANTASTIC EXPERIENCE!"


Watch Nathaniel In Action.
GENOCIDE BY DIET: How Junk Food Is Creating An Epidemic Of Mental Illness & Violence In America
The Armstrong Williams Show
The Minister of Wellness On The Armstrong Williams TV Show
Legendary Ex-Boxing Promoter Rock Newman discusses his struggles with food addiction and how Nathaniel Jordan "The Minister Of Wellness," helped him overcome to lose 64 POUNDS…and COUNTING.
Get In Touch With Nathaniel
Interested in booking Nathaniel to speak at your next event? Fill out the form below and his team will get back to you within 24 hours.
Copyright © - The Minister of Wellness.